RLH Properties is a publicly traded asset management company on the Mexican Stock Exchange that specializes in developing, acquiring and managing premier hospitality and residential assets. With an aggressive yet conservative philosophy, RLH Properties actively oversees its portfolio in partnership with leading hotel operators to maximize success of each asset. RLH Properties maintains strict accordance with local laws in each respective country where assets are located in order to reduce risks and increase opportunity for investors.
MISSION
Driven to create destinations that inspire unprecedented experiences and lasting memories, RLH Properties surpasses competitors by showcasing an unwavering commitment to guests, colleagues, partners and the greater community.
VALUES
Integrity
Excellence
Commitment
Innovation
Value Creation
Sustainability
VISION
With a vision to be the most successful Mexican luxury and ultra-luxury hotel and residential development company in Mexico and Europe, RLH Properties maintains a strategic focus on unique experiences that can only be defined as truly exceptional.
COMPETITIVE ADVANTAGES
We potentiate growth of high-end market niches.

We operate with renowned global brands that offer unique assets.

We establish regional exclusivity rights and close relationships with the world's leading hotel operators.

We innovate with a business model differentiated by active portfolio management.

We feature a highly specialized management team with vast experience.

We capture assets located in unique, rare terrains.

We access both public and private capital.
INVESTMENT CRITERIA
For hotel acquisitions currently in operation:
Hotels operated by prestigious, international hotel brands in an administrative capacity.

Hotels located in prime tourist destinations in Mexico and the Caribbean.
For hotel development:
Locations in prime cities and tourist destinations in Mexico and the Caribbean.

Projects in final development phases with all environmental permits and operating agreements signed with prestigious hotel operators as administrators or lessees.

Projects 18 to 30 months from starting operations.
While primarily focused on hotel and residential development, RLH Properties aims to continually innovate and explore other sectors, including commercial, office and residential opportunities, as long as a hotel component accounts for the largest portion of the mixed-use investment. For residential assets, RLH Properties seeks to invest and commercialize projects operated by prestigious, international hotel chains.
RLH Properties incorporates
RLH Properties was founded in Mexico City on February 28, 2013, focused exclusively on activities related to the acquisition and management of hotel assets in the luxury segment.
Acquired Four Seasons Mexico City
After becoming incorporated only a few months prior, RLH Properties acquired Four Seasons Mexico City, located at 500 Paseo de la Reforma on June 26, 2013.
RLH Properties Goes Public
RLH Properties launched its first Restricted Stock Initial Public Offer on the Mexican Stock Exchange on November 5, 2015, consisting of 29,768,977 A-series shares at $15.15 pesos for a total amount of $451 million pesos.
Acquired Mayakoba
In December 2016, RLH Properties approved the purchase of a percentage share of property owners for the master-plan destination that included Rosewood Mayakoba, Fairmont Mayakoba, Banyan Tree Mayakoba, and Andaz Mayakoba hotels, as well as El Camaleón Golf Course, located in Quintana Roo's Riviera Maya.
Four Seasons Mexico City hotel renovation.
As part of the celebration of its 20 anniversary, Four Seasons Hotel Mexico City went through a full renovation totaling more than 15 million dollars, led by renown French designers Gilles & Boisser who executed a vanguardist yet traditional proposal preserving the Hacienda style of the historical building. From every room, every restaurant including Zanaya, Fifty Mils, Il Becco and its iconoc central garden, Four Seasons reflects its timeless elegant concept that features at Mexico City
Acquired Villa Magna
On November 26, 2018, RLH Properties acquired the emblematic Hotel Villa Magna in downtown Madrid for $210 million euros.
Rosewood Mayakoba hotel renovation ends.
The remodel of its villas and the
addition of the new beach club Aquí Me Quedo expanded the experiences available at this
complex.
PROFEPA (Mexico's Environmental Protection Agency) awards Mayakoba the
Environmental Tourism Quality Certification, Environmental Performance Level 2.
This is the highest level a business can reach. It is an additional recognition of Mayakoba's continuous improvement commitment to maintaining and improving its level of environmental performance.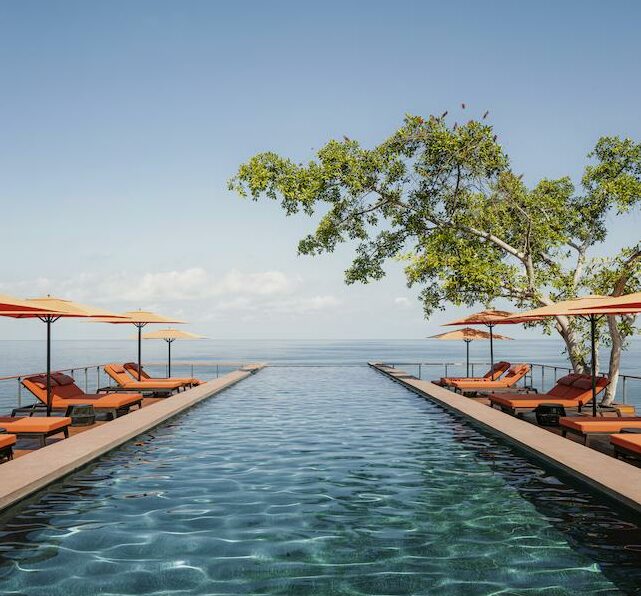 One&Only Mandarina Opens
The first asset at the extraordinary, ultra-luxury tourist destination, Mandarina, opened on November 1, 2020, which included One&Only Mandarina and One&Only Mandarina Private Homes, located along one-and-a-quarter mile of undeveloped beach in Nayarit.
Mandarina Polo & Equestrian Club opens.
One of the most unique and exceptional offerings at Mandarina is the world-class Mandarina Polo & Equestrian Club. Among the club's equine offerings are a 30,000-squarefoot jumping arena, 13,000-square-foot indoor arena and 10 acres of irrigated grass pastures.
Rosewood Villa Magna Opens
October 2021 marked the reopening of Madrid's iconic Rosewood Villa Magna following a series of comprehensive remodeling enhancements overseen by RLH Properties that has made the asset a landmark in Southern Europe. It is also the first in Europe to adopt the Rosewood Hotels & Resorts® philosophy.
Acquired Bless Hotel Madrid
In June 2021, RLH Properties doubled down on its commitment to Spain with the acquisition of the luxury Bless Hotel Madrid, which is located in the prestigious Salamanca neighborhood and features 111 rooms, including 27 suites.
RLH Properties receives the Great Place to Work distinction.
With the aim of becoming a better company for our collaborators, in mid-2019 RLH Properties launched the RLH Contigo (RLH with You) plan. It is made up of 20 initiatives in various areas.
The work we put into implementing the RLH Contigo program is reflected in 2021, when we receive our first Great Place to Work certification. It recognizes businesses considered to be excellent employers.
RLH Properties, a Socially Responsible Company.
On February 26, 2021, for the first time RLH Properties received the Socially Responsible Business award from the Centro Mexicano para la Filantropía A.C. (Cemefi, Mexican Center for Philanthropy) and the Alianza por la Responsabilidad Social Empresarial (AliaRSE, Foundation for Sustainability and Equity) for Mexico.
This award recognizes the serious commitment that we have made to the social and economic development of our community, as well as our care for and conservation of the environment.
RLH Properties is honored in the Premios HOLA awards from Grupo BHN, the world leader in event and conference organization focused on tourism investment.
RLH Properties won first place in the Development of the Year 2020 category for our One&Only Mandarina development in the Riviera Nayarit. This category recognizes a new build, remodeled, or repositioned hotel that has open or finished its repositioning in Latin America during 2020.
RLH Properties is doubly honored in the Project of the Year awards.
Thanks to our One&Only Mandarina resort and the One&Only Mandarina Private Home #3, the Project of the Year 2021 awards from Grupo Expansión recognized us in the Tourism and Hospitality and Interior Design categories respectively.
The expansion of the Banyan Tree Mayakoba hotel is completed.
With 18 new oceanfront villas, seven over-water lagoon villas, and the brand new Sands Beach Club, this complex's expansion is completed.
RLH Properties Achieves Great Place To Work 2023 Certification
For the second time, RLH Properties receives the prestigious certification and secures the second position in the Mexico's Multisectorial Best Workplaces 2023 ranking. This recognition highlights the company's strong corporate culture and a healthy work environment for the professionals that comprise the team.